Welcome to our Online Shop which offers a variety of spiritual and liturgical resources.
---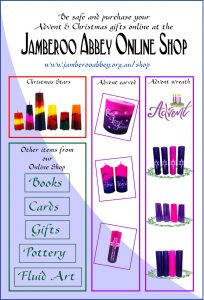 Advent and Christmas are coming
We have Advent Wreathe sets and Advent carved candles available.
Have a look at our colourful star candles and a limited edition of dinner tapers to add joy to your Christmas celebration.
We also have Christmas cards and Christmas gifts available on our online shop.
Note: If you would like to order the advent wreath set candles through email, please download and fill up this form and send it to candleorders@bigpond.com.
---
Available on our Online Shop