Our community was founded from England in 1849. Our two founding mothers – Dame Magdalen le Clerc and Mother Scholastica Gregory – left England in 1847 and arrived in Australia in 1848.  The community was founded at Rydalmere New South Wales in 1849.
---
Our Founding Mothers
Dame Magdalen le Clerc, was a nun of Stanbrook Abbey, a community which was originally English although resident in Europe in the period of the Counter-Reformation and after. When the French Government suppressed all monasteries in 1792 and then declared war on England in 1793 these English women, exiled since the suppression of the sixteenth century, were imprisoned as victims of the French Government's anti-religious policies. Spared the martyrdom of their Carmelite contemporaries, these women arrived as refugees at Dover in 1795.
Once in England they benefited from a very gradual Catholic emancipation which was taking place at the end of the eighteenth century and early nineteenth century.
Sr Scholastica Gregory was formed as a Benedictine nun at Princethorpe Priory with the intention of giving her life to the Australian Mission.  Princethorpe Priory was the first Monastery built in England since the Reformation of the sixteenth century when all monastic communities were suppressed. 900 years of Benedictine women's history was brought to a close in England by 1539.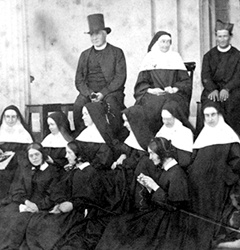 The nuns of the Princethorpe community, which was founded in France in 1630, fled from the French Revolutionary Government, and then, by an accidental storm at sea, were directed to the shores of England rather than to the Low Countries of Europe. The Prince of Wales invited these nuns to live in England and assisted them to build their monastery.
Thus, both founding Mothers emerged from communities which had been through the trials and persecutions of wars in Europe. This background, no doubt, stood them in good stead as they journeyed to "the ends of the earth" and became the founding mothers of a new Benedictine community.
---
Our Founding Father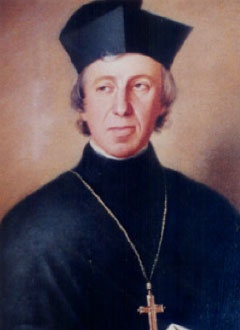 John Bede Polding (1794-1877) was the first Catholic Archbishop of Sydney.
John Bede Polding was born in Liverpool, England, on November 18, 1794. He was educated by the Benedictine nuns (now Stanbrook Abbey) and the Benedictine monks of Downside and joined the Benedictine community there in 1811.
Polding arrived in Australia in 1835 as the first Catholic bishop. He travelled throughout the vast, continent bringing Christ's healing, compassion and love to all.  Polding dreamt of building a Church based on Benedictine principles and practices.  To help him realise this dream, he invited our nuns to begin Benedictine monastic life in Australia.  They arrived in1848.  As so often happens, Archbishop Polding's  'Benedictine dream' took a different course and is now seen in the establishment of two Benedictine communities of women: the Benedictine Community at Rydalmere and now at Jamberoo and the Sisters of the Good Samaritan which began in 1857.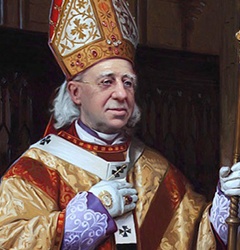 Passion and compassion are two words which describe John Bede Polding.  He spoke out about injustices in society and gave a voice to those who had no voice: the poor, the convicts, the Aborigines and women.
During his 40 years in Australia he rode thousands of miles visiting Catholics throughout the colony. When Polding died in 1877, his funeral was the largest ever held in Australia. More than 100,000 people joined the funeral procession through the streets of Sydney.
---
Our Foundation
Archbishop Polding purchased our first home in Rydalmere, Sydney, a property known in colonial times as 'The Vineyard', and later re-named Subiaco after the solitary cave dwelling of St. Benedict in Italy. The community lived at Subiaco from 1849 until 1957.
Macarthur Family Home, 1936, Vineyard Estate

Vineyard Estate to right of the Parramatta River

Benedictine Monastery – "Subiaco" Rydalmere
1849 – 1957
The Pillars shown at the front of the homestead
have been preserved at the University of New
South Wales
Superiors at "Subiaco" Rydalmere (after the two foundresses)
Superiors at "Subiaco" Rydalmere included:
Mother Walburge Wallis (1864-1902)

Mother Ignatius Harnett (1902-1915)

Mother Mary Joseph Brady (1915-1945)

Mother Mildred Potts (1945-1968)
---
Bishop Charles Henry Davis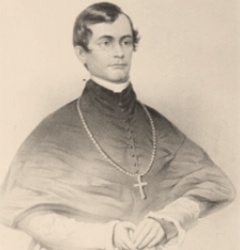 Bishop Charles Henry Davis (1815-1854) was another important figure in our history. He too had been a monk of Downside Abbey and knew Archbishop Polding well as he had been Bishop Davis' Novice Master. He was ordained in 1840 and arrived in Sydney in 1848. Unfortunately, after arrival in Sydney, he developed a heart condition and was unwell for much of his time in Australia. This, however, did not stop him from taking an active role in the early Australian Church assisting Archbishop Polding with the smooth running of the business side of the Archdiocese. He was known for his sound business sense, his gentle approach and his liberal thinking.
One of the additional tasks assigned to him by Archbishop Polding was to be the Father Director of our community. In this role, he visited Subiaco on many occasions and was much loved by the nuns. Bishop Davis was also a musician and composed a number of sacred works, some of which are still sung today. Bishop David died prematurely on 17 May 1854 and was buried in the mortuary chapel at Subiaco Convent. Upon his death he requested that his heart be left to us (which is still preserved in our archives) such was his great love for our community. His remains were transferred to St Mary's Cathedral, Sydney, in August 1945.
---
1851 – 1921
In response to the great need in Australia at the time to educate young girls the nuns opened a school for girls which was attached to the monastery.
| | | |
| --- | --- | --- |
| | | |
| Avenue to the Monastery | | Parramatta River Scene |
| | | |
| Schoolroom | | Subiaco Community 1923 |
After 1921, Papal Enclosure was set in place and we had to close our school and look for other means of support.  The community struggled to survive financially by selling parcels of the land, and then during the Second World War, by making altar breads for the army chaplains with the Australian and American Troops.
The Church at Rydalmere
The community was forced to move in 1957, when the area around 'Subiaco' (Rydalmere, N.S.W) was claimed for industry.
Benedictine Monastery Pennant Hills 1957 – 1988
The nuns then built a new Monastery in Franklin Road, West Pennant Hills, and lived there until 1988, when suburbia encroached to the extent that monastic life was affected negatively. During this period we earned our living by the making of altar breads and vestments.
| | | |
| --- | --- | --- |
| | | |
| Making Altar Breads                          | | Making of Vestments |
| | | |
| Community 1966 with Apostolic Nuncio | | Community 1976 with Cardinal Freeman |
Superiors at Pennant Hills
Superiors at Pennant Hills included:
Mother Mildred Potts (1945-1968)

Mother Placid Wilson (1968-1980)

Mother Benedicta Philips – 1st elected Abbess (1980-2006)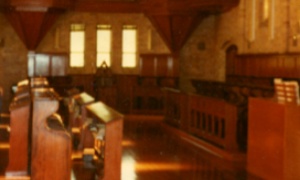 Inside the Church at Pennant Hills
Whilst at Pennant Hills we made Two Foundations
Our 1st Foundation was made in Queensland in 1978 at the request of Bishop Bernard Wallace, Bishop of Rockhampton.
Initially the sisters lived in a convent, belonging to the Sisters of Mercy in Emu Park and then moved to the newly built monastery in Lammermoor. The community now resides in Tanby, Qld.
The Croydon foundation was made in 1984 at the request of Archbishop Francis Little of Victoria.
---
1988
In Australia's Bi-Centennial year, the community moved a second time, and bought a property on the Jamberoo Mountain Pass, below the Illawarra Escarpment, on the South Coast of New South Wales. The sale of the Pennant Hills Property enabled the community to build a new Abbey, with natural materials harmonising with the environment.
~table below:
| | | |
| --- | --- | --- |
| The community no longer makes vestments or altar breads but has undertaken the remunerative work of decorating candles for liturgical use, designing cards for all occasions, and running a books and gifts shop. The move to a larger property in Jamberoo enabled us to open a Retreat Centre. We now have several cottages, three hermitages, a conference room and dining room available for people to use during their stay with us.  All are welcome to come to our place of Prayer and Peace for private or organised retreats. The nuns also give spiritual guidance to all who come to the Abbey and give weekly lectio and meditation talks in our Retreat Cottages. | | |
| | | Creation of Cards |
| | | |
| Painting of the candles | | The Sisters run a Gifts and Book shop |
Jamberoo Abbey Church
The figure of Christ on the cross is hand-carved in Queensland Maple. The figure portrays the Resurrection and Ascension of Jesus Christ and is Johannine in its theological background: Christ lifted up from the earth, giving birth to the church, gathering all people to himself and taking us to the Father.
The choice of a central position for lectern, altar and tabernacle is deliberate and symbolises the monastic journey founded on Word and Eucharist and one which looks always to Jesus lifting up the whole into his loving care. The seven metre high glass wall was designed to be symbolic of our prayer reaching out to heal and save all of humankind.
The altar of the Eucharist is one single flitch of wood from a Calophyllis tree over 300 years old. The altar sits on a base of Australian River Red Gum timber. The table of the Word, the lectern, is also of Calophyllis and River Red Gum.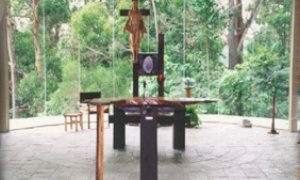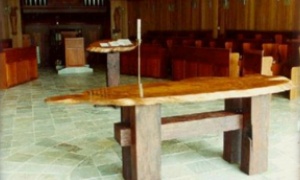 Jamberoo Abbey Church
STAINED GLASS WINDOWS in the Church 1, 3, 4 are replicas of the windows which were originally in our monastery church at Subiaco Rydalmere. (The original windows are now located in the monastery Church at Arcadia NSW)
Superiors at Jamberoo Abbey
Superiors at Jamberoo Abbey have included:
Abbess Benedicta Philips (1980-2006)

Abbess Mary Barnes (2006-2019)

Abbess Hilda Scott (elected 2019)