The Jamberoo Abbey community is an enclosed community. This means that the community lives and works within the Abbey in a spirit of openness to all in prayer and hospitality leaving the enclosure only for medical appointments or important business.
---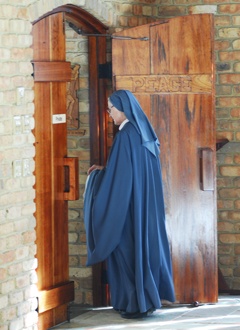 Enclosure enables each sister:
to live her vocation faithfully
to pray
to enter into a deeper silence
to wait upon the Lord.
Enclosure is not an imposition but rather a gift from the Church. We see the enclosure as a sanctuary where we can freely seek God in prayer, worship, hospitality and work. In this way we become the Church at prayer.
The workshop where we are to toil faithfully at all these tasks is the enclosure of the monastery and stability in the community. RB4.78