Your Glory Lights Creation
October 24, 2015 | Reflections from some of the nuns
The Farm

'In spite of sin
Your Glory lights creation,
Your ancient and unchanging truth remains.'

This is a quote from the Saturday morning Lauds hymn. When so much is happening in our world that speaks of evil, and when we meet weakness and sinfulness in our own hearts, it is reassuring to know that God's light and ancient and unchanging truths will continue to shine on all creation and on me.
The other morning as I was walking through the food forest under the canopy of the tamarillo trees and the flame tree, I became aware of all that is around, beneath and above us that protects us and holds us on this earth. It just seems to me that this is God's embrace of all creatures, not just me. I feel so very much a part of such a landscape. For me it is like reading a very good book where all my senses and imagination are enlivened and I become totally immersed in the story and formed by it. It must be so hard for those of you who live surrounded by buildings and traffic and noise to find a small oasis of earth that can embrace your creaturely spirit. It is no wonder that people love their gardens, and even in city life, create pot plant havens to green up their world. Without this connection to the earth life can be so lonely and isolating. I hope you can find a place to be, where you can feel yourself a part of God's embrace of all creatures.
| | |
| --- | --- |
| Today the sun is shining again after a few days of lovely soaking rain. Just before the rain Yujin, Patricia (an aspirant) and myself did a big plant up of seeds into our well prepared garden beds. So we are hoping to see some sprouting of new life early next week! | |
This is a before and after shot of the carrot bin. Our carrots and green salad leaves were on the menu for dinner yesterday.
We do salad greens well, here in the Abbey 'farm', and manage to keep the supply flowing all the year round.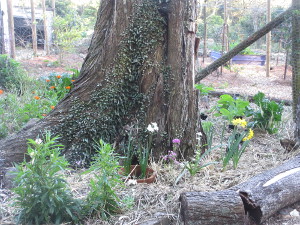 This little tree stump corner is soon to be on the agenda for a rebuild of soil and a planting. The 'Farm' is full of little focus areas with something delightful growing there.
I hope you can find delights around every corner to brighten up the days of your week.
God bless
Sr Mechtild of Jamberoo Abbey.