You Breathe On Us
September 26, 2015 | Reflections from some of the nuns
The Farm
From time to time we have a visitor to the Abbey Farm garden and often I am asked about how self sufficient the garden is. I guess the bottom line is that the garden falls short of this in a big way. We have a big community as well as many guests, so there is no way we have could provide produce for such a large number with the time available to us for work in the garden.
Sometimes I come away feeling discouraged, but with a question brewing. This concept of self- sufficiency has been resting in my thoughts now for weeks and I am struggling to understand what it actually means. How realistic, or perhaps how truthful, is such a concept? Can any of us be self sufficient in any aspect of our life? I need other people. I need the little birds and bees that companion me every day, and they need me. I need the colour and the greenness and vitality in the life of the plants. I need the soil brimming with life and activity. Can any of us, by our own actions, really supply for our own needs totally? Is a goal of self-sufficiency too self-centred? It seems to me that to strive for self-sufficiency is completely out of tune with being a fully attentive creature of God's making. We are so totally dependent on all of creation. The earth is providing for us and it is ours to work with it. We are so totally dependent on the gracious providence of God.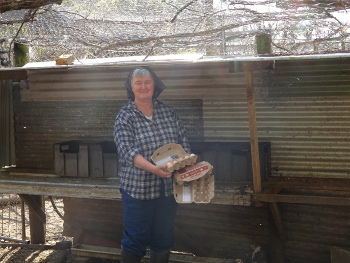 Whilst the garden may not fit the self-sufficiency goal it is a beautiful happy ecosystem, brimming with life and a variety of plants, and the gardeners are happy. Every day there is always something to harvest –eggs, salads, herbs, vegetables and fruit. Every day the soil is being nourished because of the organic system we have adopted.
Something good I learnt years ago from the self- sufficiency model is the need to plant at least 3 kinds of seeds or seedlings every week to get a good supply of vegetables throughout the year. If you don't plant you don't harvest. It is so very like the life of the spirit within us. In our Benedictine tradition we have a time of sacred reading (lectio divina) every day. It feeds the very heart of who we are; it produces goodness in our daily life. Without this nourishment life becomes stale, restless and very hungry.
| | |
| --- | --- |
| | |
A lot is happening in the garden at the moment. Yujin is sowing red clover seed in her Sofia garden, water chestnuts in the water garden and celery in the bog garden that catches the overflow. Birdie is digging swales around the vegetable patch to catch the water more efficiently and to reduce the flow and loss of nutrients when the rains are heavy. I am planting carrot, lettuce and beetroot seeds now that the soil is a little warmer. The citrus trees are still loaded with fruit and so the marmalade making continues to keep me busy.
The hens are happily laying their eggs accompanied by the choral items from Madge and Umberto our two roosters. They are a funny pair of males. It is not uncommon to find Umberto up in the nesting boxes giving the girls a demonstration on where and how to lay. Hmmm!!!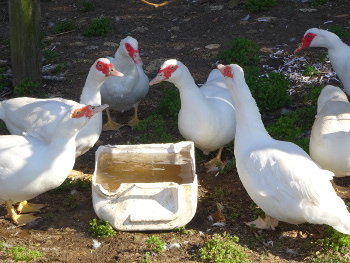 Young Albert Muscovy and his girls have their sights on Yujin's water garden and I think there is a bit of strategic planning happening in the Muscovy duck family.
Well that is all from me this week. I hope you can find the time to do some sacred reading each day to feed your spirit.
God bless.
Sr Mechtild of Jamberoo Abbey.