Without It We Cannot Survive
August 15, 2015 | Reflections from some of the nuns
The Farm
"All nature is at the disposal of humankind.
We are to work with it.
Without it we cannot survive."
– St Hildegard –
Well have you read Pope Francis's letter 'Laudato Si' on Ecology and Climate? It is very easy to read. If you are interested we still have a few copies left in our Abbey shop. I am finding it very inspiring. It is shifting attitudes and calling for deeper responses from me.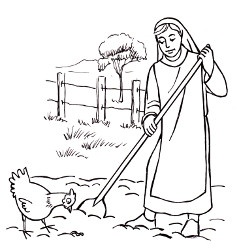 Being in the garden and with the birds, always reminds me that I am as they are, created by God. We depend on one another. We are meant to work together. I find much delight in having the chickens working beside where I am working, with them happily scratching away in the soil and the mulch. In addition to my old faithful flock, I have 10 little 'Hip Hops' as I call them who are rescue chickens from a cage bird egg farm. We have put them to work on the spring garden beds, moving them on from one area to the next. This new life of theirs is very exciting. I think they have almost forgotten what being a caged bird was like. They now have all their feathers, bright red combs and their nails are well manicured from scratching in the soil. If you could see what a caged egg laying bird looks like, believe me you would never buy eggs from that source.
With less than a month of winter to go and the vegetable garden has much still to be done  for it to be ready for spring. Spring temperatures for us though usually come more in early to mid October. High on my priority list is the restoration of the orchard. The ducks have over grazed it and the soil is very bare. Rather than lawn we are planting chicken forage crops and perennials such as comfrey, arrowroot and sorrel which will feed the soil, catch the flow of water through the orchard and also provide green feed for the birds, and forage for the bees.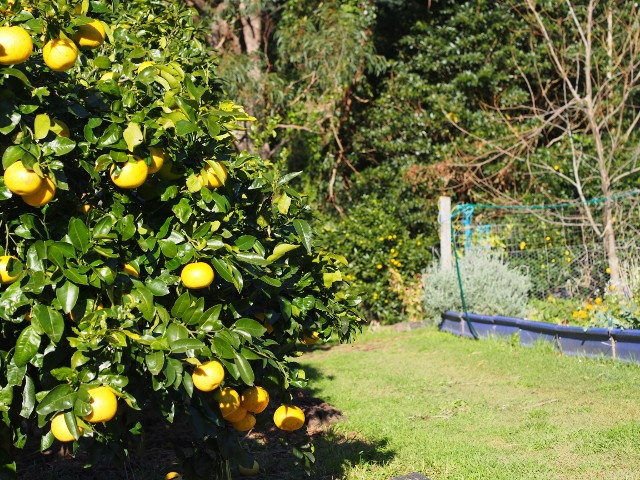 The citrus trees are still loaded with fruit. Each year seems to be better than last year. The marmalade making is happening slowly. I am struggling to get the time but I do have some in the shop.
Have you met our new enthusiastic worker? Yujin is one of our postulants and she loves coming to work at the farm. She already has two projects on the go. One is the Sophia garden with women's health herbs and the other an edible plant water garden. I will take some photos to keep you up on what is happening in these gardens in the coming weeks.
I hope you can find some time this week to do a bit of scratching around in the soil of your garden and of your life. The chickens tell me it is very therapeutic.
God bless and have a good week.
Sr Mechtild of Jamberoo.