Walk Slowly, Bow Often
September 12, 2015 | Monastic Musings
Reflections from some of the nuns
A few years ago in a teaching of our abbess Mother Mary I was introduced to two exceptionally evocative words – visio divina – a variation on the Benedictine prayer practice of lectio divina or holy reading. Visio divina is the prayer of opening up in this present moment to what is before my eyes. It is awakening to the presence of God right here and right now.
In the busyness and business of daily life, even in a monastery, it is very easy to keep eyes and attention on what has to be done next, or a current problem, or the next Office in the Church, or the supper to be prepared. Everything and anything can seem to be so much more important than what is before my eyes right now.
In this practice of visio divina I am learning, in the words of the poet Mary Oliver, to walk slowly and bow often*.  In our monastery the windows which line our cloisters fill the air with light and so on my way about my day I have the opportunity often to open my eyes and see the blue sky and the green and brown of the escarpment and the gum trees. It is an opportunity to slow down and take a breath and feel my heart lift up to God. Gratitude wells up and overflows as I become conscious of the blessings that are abundant in each day. Visio divina is an invitation to let go, slow down and walk in the beauty of the moment – whatever and wherever that moment happens to be.
On a morning walk visio divina teaches me to lift my face and breathe deeply of the fresh and crisp air, to smell the early morning rainforest, to feast my eyes on the infinite varieties of green and the changing hues of the early morning sky. I open my ears to the laugh of the kookaburra and the lyre bird concert. Visio divina teaches me to walk slowly and notice what is before me, bowing often in wonder and awe as I sense the presence of the creator God in all that I experience.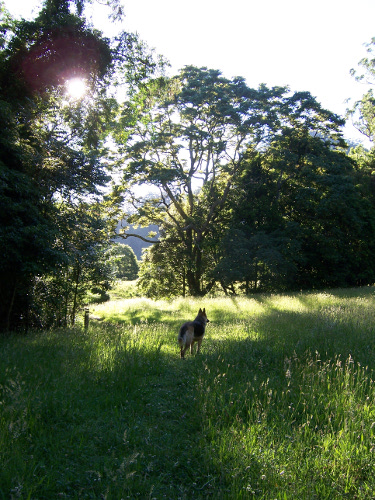 WHEN I AM AMONG TREES by Mary Oliver
When I am among the trees,
especially the willows and the honey locust,
equally the beech, the oaks, and the pines,
they give off such hints of gladness.
I would almost say that they save me, and daily.
I am so distant from the hope of myself,
in which I have goodness, and discernment,
and never hurry through the world
but walk slowly, and bow often.
Around me the trees stir in their leaves
and call out, "Stay awhile."
The light flows from their branches.
And they call again, "It's simple,"
they say, "and you, too, have come
into the world to do this, to go easy,
to be filled with light, and to shine."
* When I am among the trees. Mary Oliver
Sr Magdalen Mather osb