Though I Walk In The Midst Of Affliction
November 28, 2015 | Reflections from some of the nuns
The Farm
Though I walk in the midst of affliction You give me life
Psalm 142
Over the past month Jamberoo Mountain has been in the clouds. We had rain and mist nearly every day, with the occasional patch of sunshine. I have to tell you I just love these weather conditions! On goes all the rain gear and off I go to the 'farm'. Walking in the rain and mist is so refreshing. The ducks love it too, but the chickens get very out of sorts. In the safe area for chickens there is a very large red cedar tree which gives summer shade. It's beautiful when the sun is shining, but when there is rain it tends to channel all the water down its branches into their enclosure, making it very muddy. I get a very welcoming reception when I let them out to play and to nibble in the green.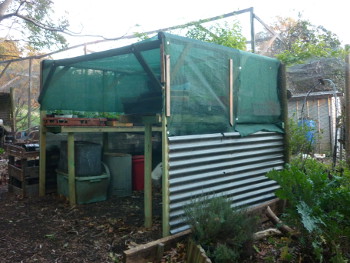 Yujin and I have been planting seedlings and sowing seeds to make the most of the moist soil. The growing conditions are peak at the moment, because of the warmth in the soil combined with the rain. But there are moments when I feel overwhelmed by the amount to be done. This is a feeling that comes at this time every year, when the preparation and hard work of winter is bearing fruit, and the growth in plants that have struggled through the cold triples in size within a few days. The tidy and planned garden beds become a sprawl of new growth.
I have been thinking about those times in life when we feel like we are walking in the clouds, perhaps overburdened with work, worry or concerns, or just without any direction or clarity. In faith we need to just keep walking, believing in a God who gives life to us; in a God who can see through the mist. I wonder if, like the earth, we are seeing and knowing these times as peak conditions, when God is sowing seeds of new life. I fail sometimes and get a bit like the chickens, so very out of sorts about the muddy conditions. What a gift is to be found in those who walk in the mist and the mud with us.
Hope you can find someone in your life to walk with you through mist and sunshine. Have a good week and God bless.
Sr Mechtild of Jamberoo Abbey