Something The Darkness Cannot Take Away
February 5, 2018 | Reflections from some of the nuns
Words from The Heart
One of the features of being enclosed nuns is that we are not exposed to the media and the entertainment industry in the way that any others are. I recognise some may think this a backward step! Among other things, it means that when we do see the occasional DVD it tends to have perhaps a greater impact than it might otherwise. I had an example of this recently. Someone gave us a copy of the "Endeavour" murder mysteries for Christmas, so we watched some of it.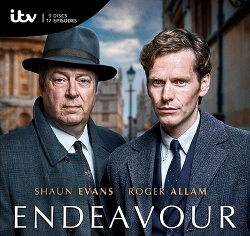 As you might know it is based on the adventures of the young Sergeant Endeavour Morse who will one day be Detective Inspector Morse of another TV series!! In these episodes he is a lowly sergeant teamed up with his boss Detective Inspector Fred Thursday. Their lives as detectives expose them to some terribly gruesome events. D.I Thursday has something of a double life since apart from being a detective he is also a happily married family man who has a golden rule; "What happens at work gets left at the front door!". He never discusses his sometimes awful job at the dinner table.
In one episode he and Morse are chasing a thoroughly evil psychopathic murderer who in the final scenes tries to kill Thursday. Thankfully he is saved by Morse; it is gripping in the extreme. After the culprit is taken away Morse and Thursday stand looking at each other in stupefied silence, seemingly unable to move. Finally, his eyes watering from sheer fright, Morse addresses a question to Thursday, who is trying unsuccessfully to light his pipe. "How do you do it?" he asks, "how do you leave it at the front door?"
Thursday considers, makes a comment about the particular horror of this present case and then says "Find something worth defending. What is worth defending?"
Morse tells him that music is worth defending for him. "That's as good as anything else" Thursday replies, "so now go home , put on your best record, as loud as you like and you remember with every note, this is something the darkness could not take away from you". I guess Thursday was also pointing out that while ever a person can hold onto whatever is worth so much, then a beacon of light will always be shining and no matter how deep the darkness, light is only as far away as that which you consider worth defending.
It made me think. Jesus found something worth defending, it was "us" and even though it cost Him His life and plunged Him into the deepest of darkness, still it could not take us from Him. We were, I believe, a beacon of light for Jesus on the cross. We were the reason He was there, we were the reason He stayed there, we brought the Father's Will to Him; we were, in His mind and heart, worth defending… and wonderfully we are still worth defending!
I believe this can also be true for us in our own lives. Victor Frankl knew it when he was a prisoner in Auschwitz, as he recounted in his book "Man's Search for Meaning". The thought of his wife kept the light burning in the darkness of the horror that engulfed him. What is it in your life that is worth defending? Do you live it with every fibre of your being? Do you nurture and nourish it? Do you defend it?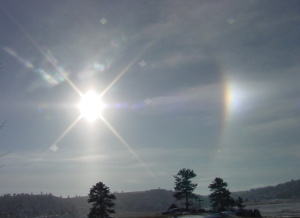 I believe when we identify, claim and defend that important feature in our lives, we are in sync with God who is THE Light. Furthermore I believe that whatever is worth defending is your piece of God and He can never be taken from you. It is at once God, and a way to God. How wonderful to search through the darkness that comes across all our paths, find that which is worth defending, engage with it and know yet again, that the darkness will never win.
Sr Hilda Scott osb