Sing to the Lord a new Song…
May 25, 2015 | Reflections from some of the nuns
The Farm
Well here it is 2015, another new year in our lives. There are new hopes, new promises and a whole full year of new chances and opportunities. I wonder what these might be for you in your garden, in the patch of earth in your care and in your heart.
One of the themes that we as a community are being invited to engage in by our Abbess, Mother Mary, is VIRIDITAS. This is a latin word used by St Hildegard, which simply means the 'greening power of God'. At the Abbey we are surrounded by green. How beautiful it is to have that green enter one's spirit. This is a theme that is full of life for this organic gardener and lover of creation. I will be sure to share more with you as the year moves on.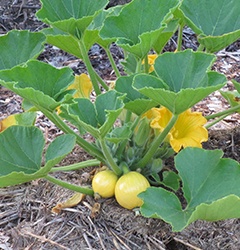 A special delight for me is that in 2015 I will continue to have the support of our two resident guests, LeeAnn and Birdie. Their interest, energy and enthusiasm is pure gift in our little veggie patch.
Yes and the veggie patch is thriving. The summer has been a crazy mix of rain, and more rain, heat and humidity but this combination has been pleasing for the plants. The summer harvest is full of cucumber, zucchini, squash, lettuce, tomatoes , beans and blackberries.
The stone fruit though has suffered from the high moisture and humidity and I have done a severe cutback on three trees to open the area to more air flow for the sake of the late fruiting trees. Severe cutting back is a hard thing on trees but even harder when we have to take ourselves in hand and cut out of our lives that which is not allowing us to bear fruit. This was on my mind as I reduced one sick peach tree back to a metre high. I wondered what I need to remove or prune from me so that there will be room for new life.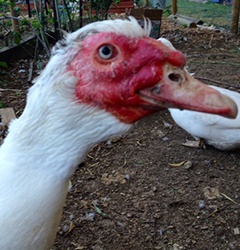 A little bit of duckie news. On November 18th Albertus died. He was 12 years old and had fathered a great nation and befriended every visitor to our Abbey farm. He was a special gift and is very missed. On the day he died LeeAnn heard an ABC radio interview with Leunig so she texted in a message about the passing of Albertus and he was given a special mention on National radio. We buried Albertus in the berry pen beside his brother Emmanuel who died in 2013. Just to share a little story with you. After Emmanuel died, Albertus rested on his brother's grave for two weeks. It was very moving and very inspiring.
On November 20th Albert was born. He has been hand raised and is a little character so here's hoping he can follow in the webbed
footsteps of his great grandfather.
Well that is all for this week. Let us hold out hope for one another in the promises of this new year.
God bless. 
Sr Mechtild of Jamberoo Abbey