For everything there is a Season
May 25, 2015 | Reflections from some of the nuns
The Farm
"For everything there is a season, a time for every purpose under heaven: A time to be born and a time to die; A time to plant and a time to pull up what has been planted…" ECCLESIASTES 3:1-2
Earth has its rhythm and its cycles of life and death and the events of this last month here on the Abbey farm have had us living this reality deeply.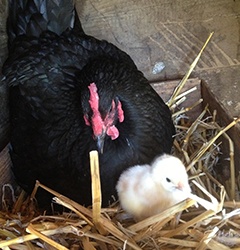 The majestic wedge-tail eagles have a new eaglet and they have been soaring around the Abbey, yes with their sights on the chicken run. My arrival at the vegie garden gate one afternoon startled the pair teaching their young one to prey. For a few moments we stood 5 metres away, looking into the faces of one another while each deliberated on the next best thing to do. An amazing rush of feelings and thoughts passed through me; awe at this grand bird of prey, fear at the size of them multiplied by 3, distress at the mess of my flock and sadness at the loss, particularly of a favourite rooster Sebby. Sadly "the girls" are restricted to closed areas for the time being, just until the wedge-tail finds another place to dine.
Overall, the loss of hens in the last month is 10 with a few of these being from old age. But, I do have about 5 broody hens so I have given all of them some eggs to hatch while I can be sure the eggs are fertile. Two very contented mummies already have 3 chicks each. They are the dearest little creatures.
The weather has been crazy with hot humid days or rain and then cold nights. The other morning I picked up a 2 day old chicken that had spent the night out away from her mum. It was stretched out and cold, as good as dead. In fact I thought it was dead and so picked it up and held it close to me. As I moved away I felt the slightest movement and I cuddled it in my "hot little hands" until the tiniest heart beat began. By the time I got back up to the Abbey, "Brigid" (born on Feb 1st) was already tweeting away filling me in of her great saga. She had a day and night with a few cheeky ducklings in the Abbey and then went home very happily to mummy.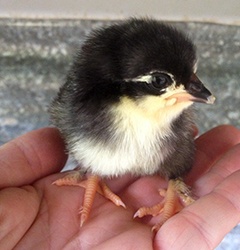 I have done this quite a few times before. I guess it is the heat of my hands that resuscitates them.  Mostly it only works with a one day old bird but whenever it does, something very beautiful happens in me. It feels like this enormous surging of hope rises up in me, holding out, waiting for the smallest movement or sound, the tiniest sign of life. I think it is the hope that brings back life but I don't know. It is a most awesome experience.
It reminds me of people and situations, when things just seem hopeless or a lost cause. I wonder if we were to take them into the warmth of our hands and our hearts, and allow an enormous surge of hope and faith rise up in us, could our holding out hope, could our waiting, could our warmth bring back the tiniest sign of life in them? I sure hope so.
I pray for you this next week. I know that there is just a chance that you may be feeling or living with what seems like a lost cause, a hopeless situation. Let us hold out hope for one another and courageously take this into the warmth of our heart and our hands and to our great God in prayer.
God bless.
Sr Mechtild of Jamberoo Abbey