Faith Of A Mustard Seed
September 5, 2015 | Reflections from some of the nuns
The Farm
'If I had the faith of a mustard seed.'
This is a paraphrase from the gospel that most of us know well. This week I find myself carrying this thought in my heart and in my mind. What prompted this? Well, on Wednesday Yujin and I were planting Red Clover seed in the Sophia garden – this is a new garden where Yujin is planting women's health herbs. When I held these seeds in the palm of my hand I was overwhelmed by the potentiality of such a small and vulnerable particle of God's making. Each time we sow a seed, we sow in hope of new life sprouting forth from the soil and in our minds we begin planning and dreaming of what we can do with this green and nutritious growth.
What is the soil of your own mind and heart like? Sometimes life is so busy and so noisy that preparing the soil for planting can't actually happen. We know restlessness and dissatisfaction when it is stirring in us. These are signs beckoning us to change pace, beckoning us to dig deeper, to have faith in a loving Provider greater than ourselves. In the garden of your life what seeds do you need to plant –is it hope, love, compassion, understanding, creativity, generosity or openness? So often fear, doubt and anxiety is the puff of wind that blows away any possibility of new life. If only I had the faith of a mustard seed to place my life into the soil of a loving God, then most surely I would put my roots down deeply into the circumstances of my life and no matter what, I too would sprout forth hope and new life.
The Sophia garden is in its early days ready for the spring planting of galangal, ginger, turmeric, red clover, lemon grass, lavender and mints of many kinds – peppermint, chocolate mint, basil mint and Vietnamese mint. Recently LeeAnn did a fence weaving course and you can see the first touches of this new skill appearing in the Sophia garden. This pretty bird and his mate are daily visitors.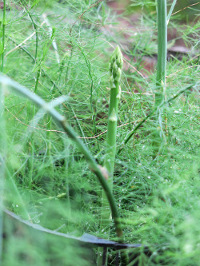 There is a lot of work happening at the Farm getting the vegetable beds ready for the spring planting, and the weather has been perfect. The first spuds are in the ground and so far we have planted King Edward and Nicola seed potatoes. Last year we planted galangal, turmeric and ginger tubers for the first time and are thrilled with the results. We know now that we have the perfect conditions for these in the food forest section of the garden and have the beds ready to sow extensively once the soil warms up.
Well as the days warm up and the appearance of blossoms show promise on the stone fruit trees I pray that the warmth and spirit of spring will bring the possibility of new life for you.
Have a good week. God bless.
Sr Mechtild of Jamberoo Abbey