Advent Week 1
December 3, 2017 | Reflections From Sr Mary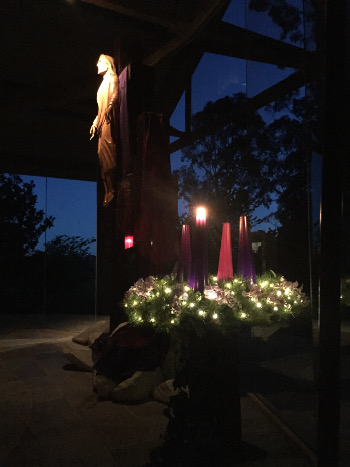 Finally the season we look forward to so much is here! Advent at last! That glorious season so rich in promise! Already we feel the difference it makes.
Walking into the church we see
the new colours,
the beautiful symbolism of the Advent wreath,
the first candle lit,
that was only the start!
Then the first Advent hymn began….
something different,
full of quiet hope and longing
bringing a wash of newness,
peace and stillness to our hearts.
Psalms,
antiphons, (the beautiful one tonight: "In that day the mountains shall drip sweet wine and the hills shall flow with milk and honey. Alleluia!")
All combine to carry on the message of Advent. Yes, already we feel it, the difference Advent makes and it's only just begun!
We seem to have been in Ordinary Time for so long, and not just liturgically, but also in our hearts, our families and communities, our country, our world. Those ordinary days when time rolls along with all the
usual ups and downs,
some hum drum days;
some troublesome;
some moments of light but also some of darkness;
moments of joy but also some sadness;
moments of certainty but also some fear.
This is the stuff of life isn't it?
But, come December, suddenly, like a shaft of light, (or as Evelyn Underhill says: "A shaft of delight") Advent inserts itself into all of this ordinariness and beckons us to COME, just as we also beckon Emmanuel to come! It's a two way street! Come, says Advent and our God – come and journey with me, come and experience all I have to offer, just COME! Come as you are.
There's a beautiful hymn by Marty Haugen, the title of which eludes me at present, but it keeps repeating the words, "Oh forget not what God has done".
Over the coming weeks, through the magnificent prophecies of Isaiah and the Gospels of the day, we will be reminded of what God has done…and done for us. And not only that, we will also be reminded of the promise God holds out to us…if only we would open our eyes and our hearts and COME!
Wendy Wright, in her book "The Vigil" says this:
Throughout the season of anticipation, the Church raises up the voice of prophecy enshrined in the book of Isaiah. The liturgy resounds with the thrilling vision foretold there. It is a vision of the fullness of all the things, of creation transfigured. The words paint a vivid and compelling picture that speaks to the deepest longings of our hearts.
And so, we will hear words speaking of
beauty,
glory,
holiness,
healing,
peace,
newness,
fullness,
wellness,
transfiguration and joy.
We will behold visions of
shoots springing,
branches growing,
tears being wiped away,
broken hearts being bound,
canopies of light and peace covering us,
mountains dripping with wine,
hills flowing with milk and honey,
flames of fire going before us,
deserts bursting into flower,
banquets of rich food being laid before us…
These are just some of the promises of our God, promises which will be fulfilled in the coming of Emmanuel…
God-with-us in our hearts,
God-with-us in our families and communities, God-with-us in our world.
There is something deep in the human heart that holds onto promise, holds onto dreams. I'm sure God has planted this beautiful gift deep within each one of us!
Advent calls us to awaken that promise and unlock those dreams.
Dare we do it?
Dare we answer the invitation to become People of the Promise?
There is so much happening at this time of year that it's easy to just give in to all
the busy-ness,
the stress,
the heat, (although our Fijian sisters think we are a bit crazy and that it is really quite cold!)
the calls on our time and patience,
we could just go with the flow of it all and let Advent simply wash over us with a superficial acknowledgement of it being just a "lovely season".
Lovely, it is, but superficial it is not! As Wendy Wright says, it speaks and it calls to the deepest longings of our hearts. Do we dare allow Advent to open us bare and call forth those dreams and longings? Do we dare, allow the promises of God to burst forth within us?
To quote Wendy again,
Opening our hearts to the radical nature of the promise is the initial invitation…
the further invitation is to believe…
to let that promise sink down into the marrow of your bones and form the structure of your life.
To believe something is to let its affirmation become the inhalation and exhalation of your life's breath.
To believe something is to let it transform your life.
Yes, finally it's here! Advent at last has dawned upon us! That glorious season so rich in promise! Already we feel the difference it makes.
May it continue to sink deep into the marrow of our bones,
may it be the inhalation and exhalation of our life's breath,
may it transform us,
may it be glorious!
Amen. Come Lord Jesus.