A Snail's Pace
October 24, 2015 | Reflections from Sr Antonia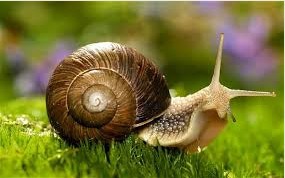 I picked him from the leaves of my gardenia bush and relocated him to the end of the lawn, confident that that was that. It wasn't! Perseverance was this little one's hallmark, if not his name, and back he came in spite of several relocations. He knew what he wanted, knew what it was that would nourish and sustain his life, and he was not taking his eyes off the goal. So, in spite of encountering difficulties and opposition (in the person of myself), he made his slow and painstaking journey back across the grass each time. I have to admit to being the one to give in in the end!
The whole operation did however, remind me of St. Paul's words:
"Intent on what lies before me I press on with the goal in view,
eager for the prize."
Phil 3:13
What also came to mind, from the desert fathers, was the story of the guest who came to the monastery and asked the monk what he does all day here in the monastery. The reply was "we fall down and get up and fall down and get up and fall down and get up again!"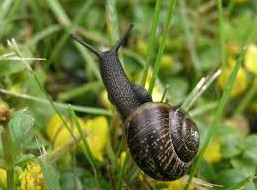 Yes, what melted my heart with this little one was that, despite the slow and painstaking journey, he just kept going, not allowing anything to deter him.
'Slow and steady' is not a phrase that would draw enormous enthusiasm in the culture of instant gratification which dominates life today. Pondering this, and reflecting on some rather challenging words I am reading from Pope Francis at the moment, I shifted uneasily in my chair.
Pope Francis was speaking of corruption… a corrupt heart, saying that this can happen even to committed Christians and consecrated religious. How easily our hearts can become corrupt he says, through mediocrity and lukewarmness, two forms of what he terms spiritual corruption. He says the corrupt soul does not want God to get in and start her on paths that are beyond her control. She would prefer to settle for less and so, begins to satisfy her hunger with the products on offer in the supermarket of religious consumerism.
Tough words aren't they? I welcomed them with what I hoped was an open heart, and reflected on the state of my own heart. Like the baby snail am I prepared to take the slow and gradual road of perseverance, never taking my eyes off the goal? Am I prepared to start all over again… and again… and again when thrown off the track by difficulties? Have I allowed myself to settle into the comfortable chair of lukewarmness and mediocrity, thus settling for less?
Keeping my eyes on the gaol and, starting all over again in the face of setbacks, this is what I think might constitute living in hope.
Yes, two powerful gifts have come my way this week and they could not be more different: a little snail's painstaking journey across the grass and Pope Francis' book "The Way of Humility".
I do not think Pope Francis would mind at all that a little snail would speak to me just as powerfully as a pope!