Yujin was clothed in the monastic habit
January 15, 2016 | Current News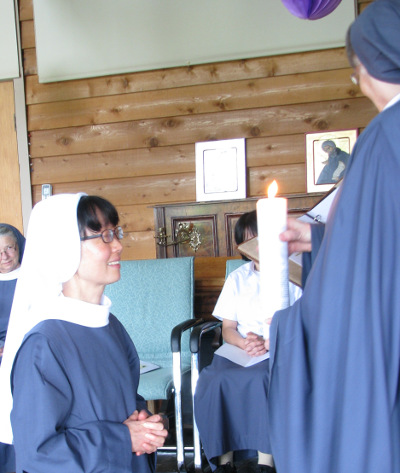 The 8th December 2015 was a very special day in the life of our community as our postulant Yujin Lee was clothed in the monastic habit. Yujin entered our community on 2nd February 2015 and, after completing nine months postulancy, petitioned the Chapter for formal admission into our novitiate. We accepted her warmly and Mother Abbess clothed her in the monastic habit before the whole community on the feast of the Immaculate Conception. As always it was a very moving ceremony, reminding us all once again of own commitment to God in this community and also of our responsibilities to Yujin. For those of us not working formally in formation this means to help form her through fidelity to our vows of Stability, Conversatio and Obedience and, most importantly, to pray for her.
Yujin was born and raised in South Korea. She has lived in Australia for eighteen years and became an Australian citizen in 2008.
Formally a mental health nurse, both in Sydney and then in Melbourne, Yujin came to us as an aspirant three years ago, spending two weeks living with us and experiencing our way of life. She made a second aspirancy the following year after which she asked to be received into our novitiate as a postulant.
Yujin shares the following reflection with us.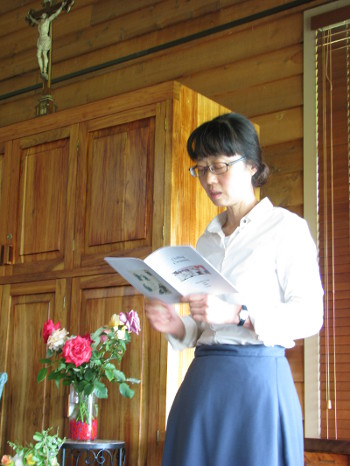 I was clothed in the Monastic Habit on the 8th December, 2015.
I was clothed in Christ. What does this mean to me? It is a new beginning of my intimate relationship with God in the monastic life. God is wonderful! Although I am not worthy in many ways, God's mercy poured upon me and my community embraced me with love in the Spirit. So I shall live "here and now" in little ways with my sisters in the community. This is my love for Christ. "Lord, that I may see again!"
My monastic name is Stella Isaac. Stella is from "the Star of the Sea". I pray that Mary will accompany me throughout my monastic life! Isaac is Abraham's son, who simply followed his father up to the point of his death. I pray that I may have such childlike dependency on God in my monastic life!
Strangely, my Monastic Habit talks to me! "I am with you always", says the Lord. O God my God, for you I long.
Sr. Stella Isaac