Latest News
---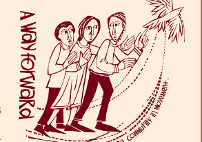 March 18, 2017
4th International Oblate Congress
We are delighted to invite you to the Fourth International Congress for Benedictine Oblates to be held at the Salesianum in Rome from 4 to 10 November 2017.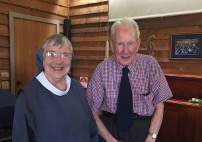 October 26, 2016
Sr Elizabeth turned 90
Sr Elizabeth Funder celebrated her 90th birthday on October 26. Elizabeth entered our community when it was resident at "Subiaco", Rydalmere, in 1947.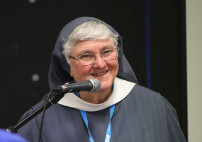 September 25, 2016
Ignite Youth Conference
At the end of September, Sr. Hilda Scott was invited to participate in and speak at the Ignite Youth Conference held in Brisbane.  Ignite is an ongoing initiative of the Emmanuel Community in conjunction with the Archdiocese of Brisbane.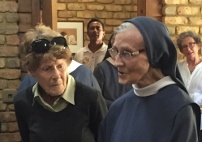 February 23, 2016
Sr Clare's Silver Jubilee
On Monday, 8th February, we joined with Sr Clare Gamble to celebrate of the 25th anniversary of her Solemn Profession. The date of her profession was actually the 10th February...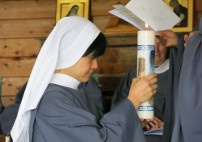 February 22, 2016
Clothing Ceremony for Christine Dorothy
Christine Dorothy was clothed in the monastic habit on 5th February 2016. The ceremony was combined with the Office of Terce at 11.00 a.m. After the formal questioning, Mother Abbess clothed Christine in the habit of the community and ...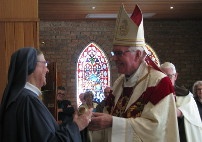 February 20, 2016
Sr Hannah's Solemn Profession
The Feast of the Presentation of Jesus in the Temple on 2nd February is always a special day for us as it is our Foundation Day. This year, it was doubly special as we celebrated the solemn monastic profession of our Sr Hannah Massy-Greene.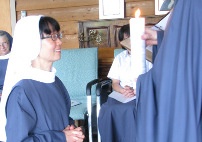 January 15, 2016
Yujin was clothed in the monastic habit
The 8th December 2015 was a very special day in the life of our community as our postulant Yujin Lee was clothed in the monastic habit.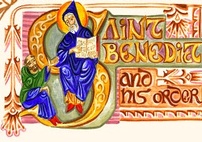 July 11, 2015
Feast of our Holy Father Benedict
Happy Feastday!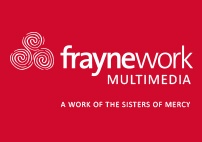 April 29, 2015
Launch of Our New Website
Our very latest news, of course, is the launch of our new website!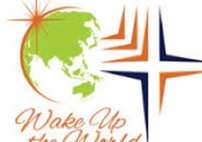 April 20, 2015
Year of Consecrated Life
As we are all aware, Pope Francis has designated 2015 the Year of Consecrated Life.