Ignite Youth Conference
September 25, 2016 | Current News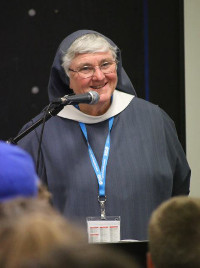 At the end of September, Sr. Hilda Scott was invited to participate in and speak at the Ignite Youth Conference held in Brisbane.  Ignite is an ongoing initiative of the Emmanuel Community in conjunction with the Archdiocese of Brisbane. The Conference offers a wide range of activities and spiritual events for young people to engage in during the four days.  These include talks given by a wide variety of speakers, workshops, prayer sessions, daily Mass, adoration, opportunities for the Sacrament of Reconciliation, times of community and individual meetings with some of the many mentors who were available for them to talk to. The young people came from a wide variety of backgrounds, age, cultures and locality. For some, Ignite is a yearly pilgrimage but for many it was a new experience.
Hilda told us that during her flight to Brisbane, as she glanced through the inflight magazine, a fashion article caught her attention.  Its opening sentence read: "In September 2016 the world's most beautiful people will converge on New York". Having met the participants at Ignite however, she was soon able to set the record straight when, in quoting the above sentence from the article, she was able to say to the young people at her rally address, "No, in September 2016 the world's most beautiful people have converged on Brisbane!"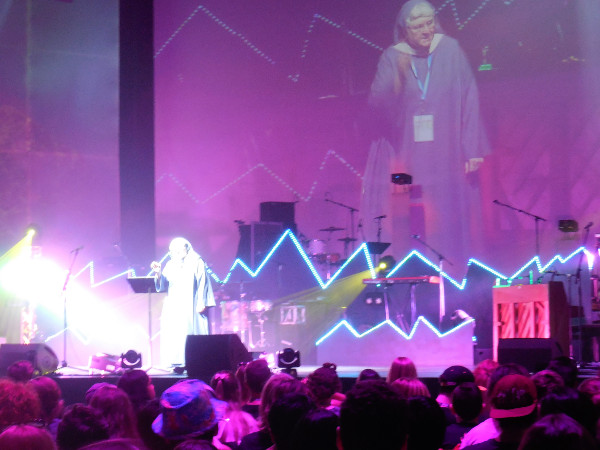 She went on to explain that no matter what they thought of themselves, each one had an inherent beauty because they were loved with a personal love by Jesus. Each heart held a story, a hope, a dream, a particular pain and during the days of Ignite, Jesus had only one purpose which was to let them know how much they were loved. During the Conference she invited them to look for that love and to spend some time telling Jesus that He too was loved by them.  She assured them that it was this personal encounter with Jesus that would shape their lives from that point on. "Ignite", she said, "lived up to its name, for many hearts were 'ignited' by the experience of that love."
As well as the rally address, Hilda gave several talks on prayer, relationship with God, and the saints as companions on the journey.  She also spent a great deal of time in conversation with the young people. There were also the endless selfies! A comment found on "Catholic Corner" bears witness to the impact and inspiration of her talks: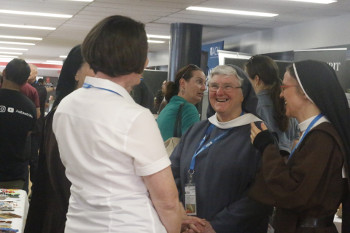 "One of the best talks I went to was a talk on prayer by a snowy haired Benedictine nun, Sr. Hilda Scott from The Abbey at Jamberoo south of Sydney. Most of us had tears in our eyes, it was so moving.  She shared a real message of how much God loves us all".
Hilda was also very grateful for the gracious hospitality offered to her by Hilary and Brendan Scarce during her Brisbane sojourn. Hilary is an oblate of our community and she and Brendan, as members of the Emmanuel community, were heavily involved in the organization of this mammoth event.
We have no doubt that this will not be the last time the Brisbane Youth Conference is "ignited" by our Sr Hilda Scott!