Happy Easter
April 20, 2015 | Current News
Happy Easter to everyone! Even though it is autumn, we are delighting in the many signs of new life surrounding us, particularly these new little bundles of joy! We hope and pray that the blessings of the Resurrection will warm your hearts and homes during this season of rejoicing.
Holy Week & Easter Week at The Abbey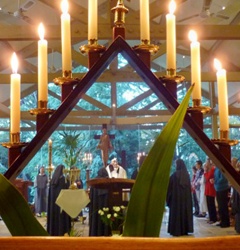 Holy Week and Easter brought the depths of Liturgy into our midst, as always. Our Retreat Cottages were fully booked, and the many guests who took part in the Liturgy of the Hours and the Ceremonies of the Sacred Paschal Triduum were an inspiration to all of us. The wet weather did not deter those wanting to share fully in the Liturgy, even at the Easter Vigil which began at 4.30 a.m. on Easter Sunday! Despite the early drizzle, the dawn and sunrise did not disappoint us, nor the sound of the kookaburras with that Australian "touch" of beauty.
After two weeks of intense Liturgy, combined this last week with a little extra rest, we return to work tomorrow, April 13th.
We had the first of our Retreat Days on April 12th. These days are an initiative of our community for the Year of Consecrated Life. The first day was led by Sr. Hilda Scott. Our Chaplain, Fr. Paul Gurr gave a blessing to all those who were at Mass to begin the retreat day. While those participating battled very heavy rain, this did not deter the spirit of prayer and reverence which characterised the group.
On April 23rd, we celebrate the Silver Jubilee of the Consecration of our Monastic Church. Our Church was consecrated by Bishop William Murray on April 23rd, 1990. The Most Rev. William Murray was the Bishop of Wollongong from 1975 until 1996 and welcomed us warmly when we came to his Diocese. He also blessed and opened the Abbey on Trinity Sunday, 1989.
Our community is preparing to receive its second Postulant for 2015. This is a great blessing for us.