Click images to enlarge
Our Paschal Candle theme this year is Christ Risen in community.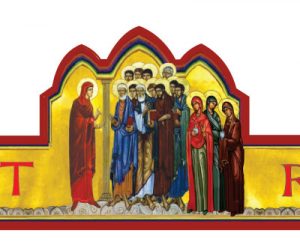 Our design features two icons: Mary Magdalene announcing the resurrection (www.printeryhouse.org), and the three Mary's who visited the tomb to prepare the body of Jesus. It also features the central Christ figure, designed by one of the Benedictine Nuns at Jamberoo Abbey. The two figures that make up the Christ are the human and the resurrected Christ. As a community we witness to this. We can't do this alone. We need each other. We stand together to announce the resurrection and to witness to Christ Risen within and among us.
"I have seen the Lord!" Mary Magdalene stands facing the eleven apostles, earnestly trying to communicate the wonderful news that Jesus is alive! Their faces reflect a mixture of puzzlement and scepticism, sadness and hopelessness, having themselves only just experienced the arrest, crucifixion, and burial of their beloved Lord. A fanciful representation of the city of Jerusalem forms the background, with a rainbow providing a symbol of the Resurrection… The only apostle traditionally identified in scenes such as this is Peter, the figure in a blue robe nearest Mary. Each person is depicted with elongated bodies in a style made famous by Dionysius, a Russian iconographer from the 14th century. The ratio of the height of the figures to the height of their heads is about nine, compared to the normal human proportion of seven. This is done in certain icons to emphasize the importance of the saints depicted. Each apostle and Mary Magdalene have halos of gold leaf surrounding their heads. This ancient symbol of sanctity is meant to symbolize the Divine light of God shining forth through the work of this holy woman and these holy men.
Jesus said to her, "Woman, why are you weeping? Whom are you looking for?" Supposing him to be the gardener, she said to him, "Sir, if you have carried him away, tell me where you have laid him, and I will take him away." Jesus said to her, "Mary!" She turned and said to him in Hebrew, "Rabbouni!" (which means Teacher). Jesus said to her, "Do not hold on to me, because I have not yet ascended to the Father. But go to my brothers and say to them, I am ascending to my Father and your Father, to my God and your God." Mary Magdalene went and announced to the disciples, "I have seen the Lord"; and she told them that he had said these things to her. (John 20:15-18) The only traditional icon in which Mary Magdalene appears is referred to by the Latin phrase Noli Me Tangere, "do not hold on to me," from John 20:17. In this new composition by Sister Mary Charles, the next verse is illustrated wherein she tells the apostles about her experience. All four gospels tell of this event, see Matthew 28:8, Mark 16:13, and Luke 24:9. The apostles do not believe Marys words, according to the accounts in Mark and Luke, but their doubts are quickly erased when they see Christ for themselves." www.printeryhouse.org
The three Maries, Mary Magdalene, Mary Cleophas and Mary Salome go together to the grave of Christ after his burial to anoint him. When they arrive at the tomb, they see that the stone has been rolled away and an angel tells them that Christ has risen. It is this moment, which is described in the gospel of Mark. Three women came to the sepulchre of Jesus. In Eastern Orthodoxy they are among the Myrrhbearers, a group that traditionally includes a much larger number of people. All four gospels mention women going to the tomb of Jesus, but only Mark 16:1 mentions the three that this tradition interprets as bearing the name Mary, who came very early on Easter morning to the Lord's tomb, to anoint his body, and were the first who heard the announcement of his resurrection.
Paschal Altar Candles 2020
We also have Altar Candle with Paschal 2020 theme. An altar candle comes in either Beeswax or White and sizes in 9 x 3″ or 6 x 3″.
Order Paschal Altar Candles here.
SIZES / PRICES / ORDER FORM
Candles are available in beeswax or white.
Download Paschal Candle order form.
Or go to Carved Candles for the carved designs below.
HAND-MADE & HAND-CARVED
A. Alpha Omega
9×3″ / 12×3″ / 6×3″
B. Cross
9×3″ / 12×3″ / 6×3″
C. Celtic Cross
12×3″ / 18×3″ / 9×3″
D. Resurrection
12×3″ / 18×3″